Serving Greater Castle Rock, CO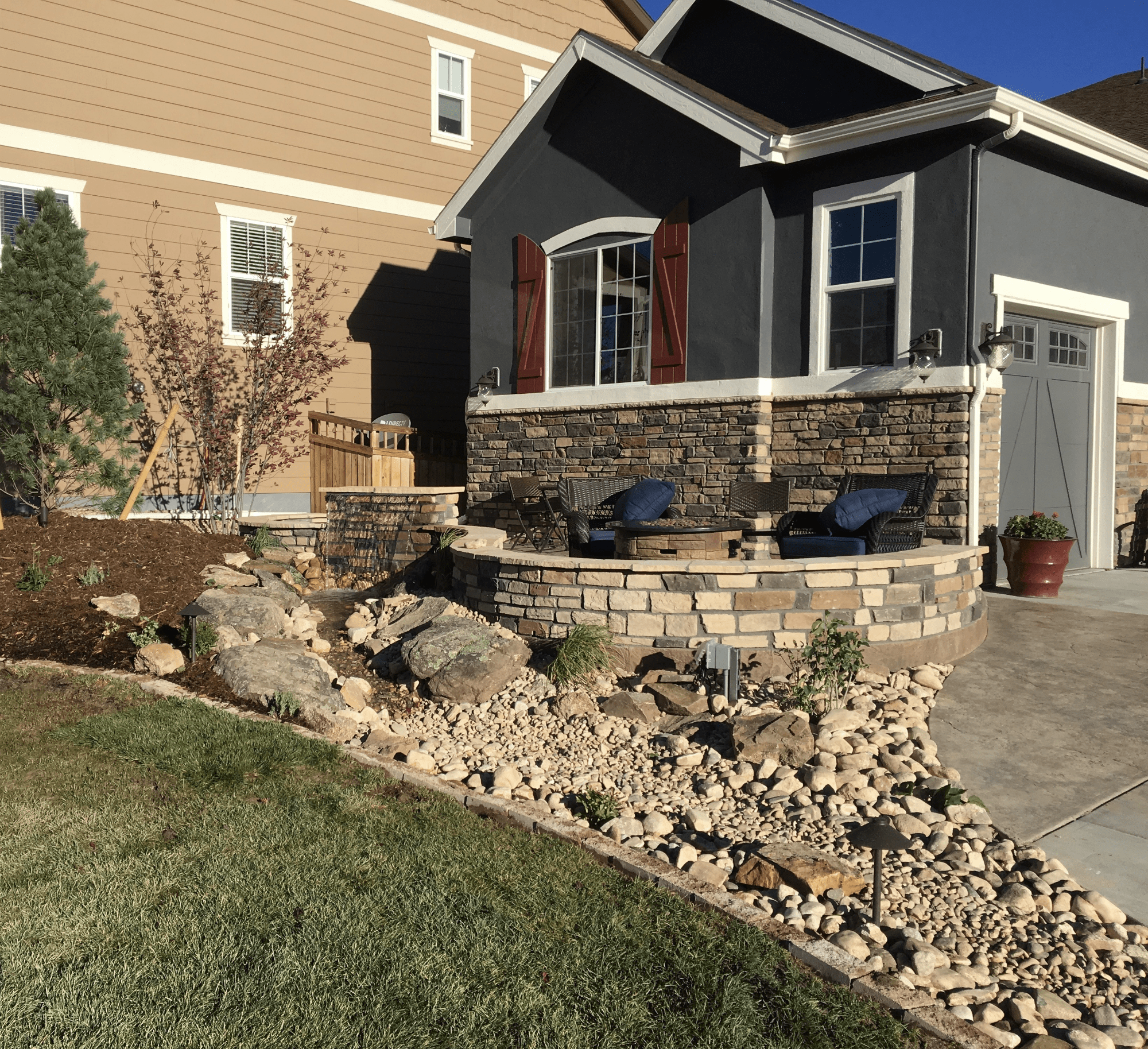 Decorative Concrete in Castle Rock, CO
Whether you're a homeowner or a business owner, decorative concrete can be the beautiful finishing touch your property has been waiting for. At YMS Landscaping, our decorative concrete is designed to elevate your property's aesthetic appeal and allow you to customize a look you'll be proud to call your own.
At YMS Landscaping, we offer the latest and the most artistic decorative concrete services. YMS Landscaping is prepared to first listen to your ideas and aesthetic principles and then turn them into reality with our artistic and technological expertise in decorative concrete. Instead of a humdrum gray driveway, YMS Landscaping can create a decorative concrete driveway for you that bears a beautiful pattern or design. And because we value our customers, we pledge to provide the detailed, dedicated service you deserve.
Let your property stand out. Contact YMS Landscaping today to learn more about our decorative concrete products and services.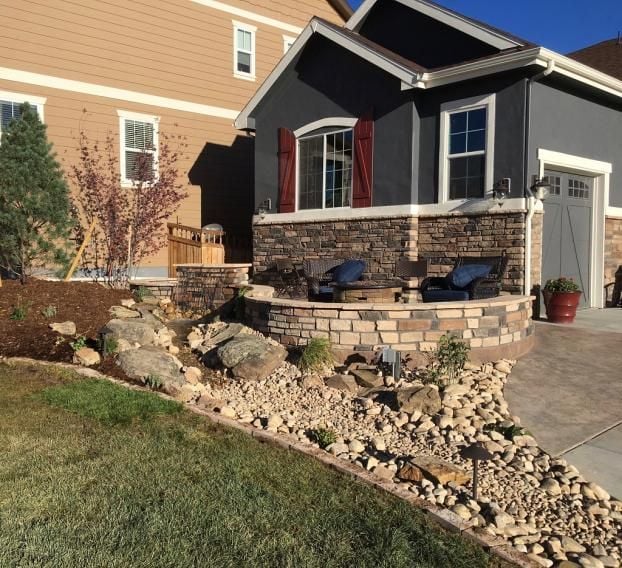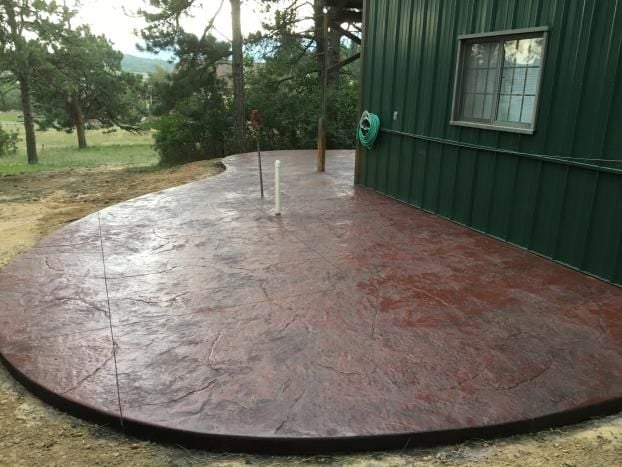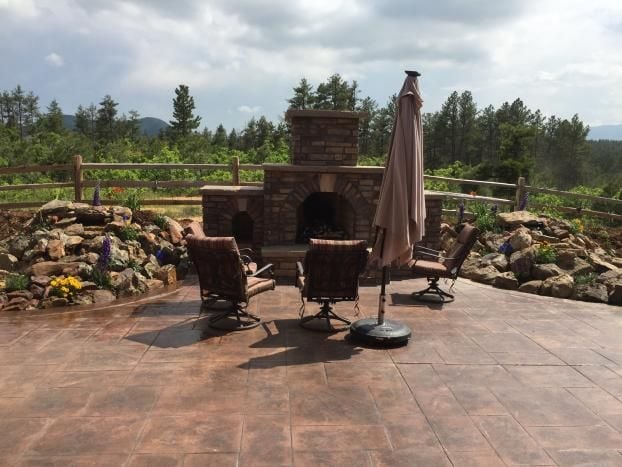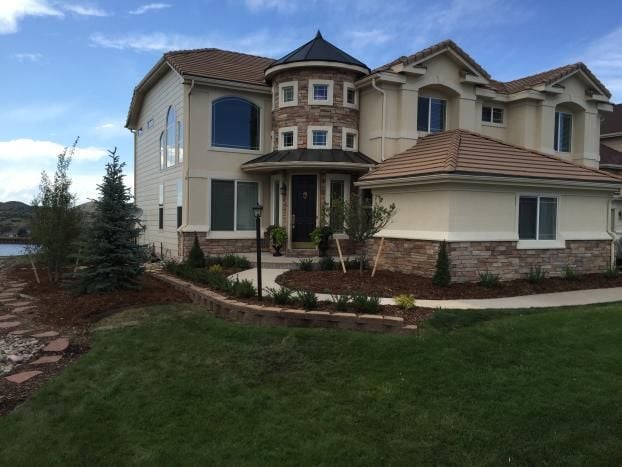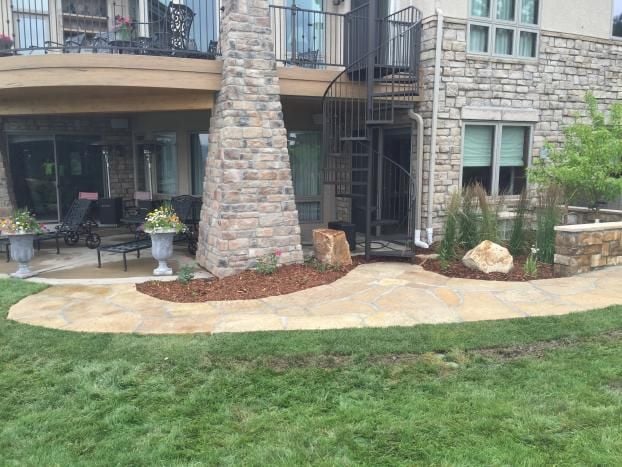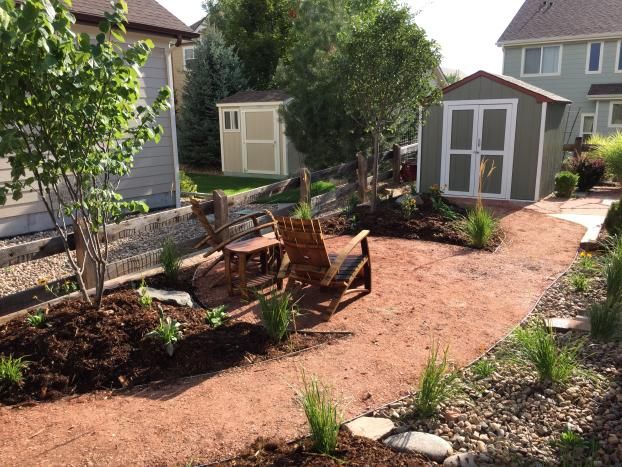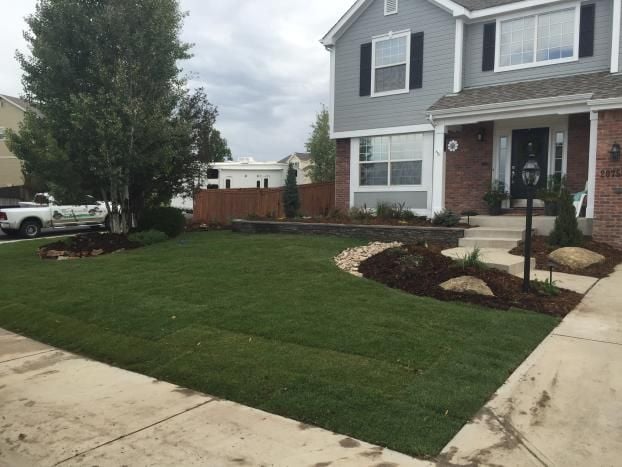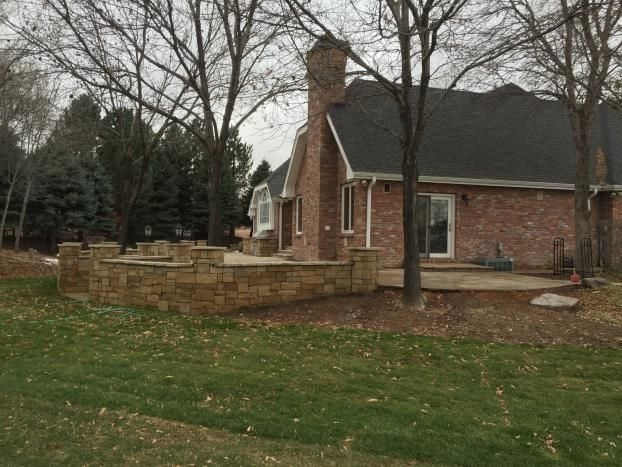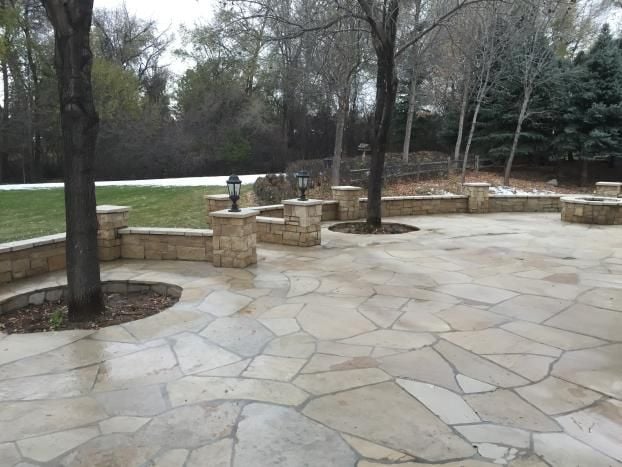 Stamped concrete patio and sitting wall with a waterfall coming out of the wall.
Going with YMS landscaping was a great decision ! We got quotes from 5 other companies but Scott was the best to work with and was honest and cared about the project. I would highly recommend YMS for any of your landscaping needs.

- Garrett Hentrup. 5/16/2020

Scott and his team showed up when they said they would, and our new patio looks great! Just what we wanted. We definitely recommend YMS Landscaping!

- Thomas Speed. 4/26/2020

Scott and Cesar did a great job for a fair price

- Steve Hamline. 4/24/2020

Scott and his team were phenomenal!! They far exceeded our expectations and gave us the backyard we truly wanted. The guys were punctual and very courteous. I HIGHLY recommend them!!! You will not be disappointed.

YMS is a great company to do business with. Scott and crew are punctual and work very efficiently to help your landscape ideas come true. Highly recommend them.

- Mike Morrison. 3/29/2020

Scott and his team did an awesome job. I had a change in plans and was unable to move 22 tons of rock. Scott made it a priority to work us in and complete the job in a single day. Highly recommend.

- Michael Newton. 3/10/2020

Scott and his team just gave a major facelift to our backyard and we love it! Scott was very responsive and provided a quite quickly. He also gave some suggestions for our project that look beautiful and were very cost effective. His team was friendly and professional and worked pretty quick even though delayed a few days due to weather. I would absolutely recommend YMS to friends and neighbors!

Impeccable service, extremely knowledgeable, and Scott goes out of his way to provide first-rate landscaping. Scott and his team were fast & efficient and I am SO pleased with everything! I will definitely be recommending YMS to my friends and family.

Worked with Scott from YMS last year when he did my retainer wall and added a patio area and this year when I needed another flagstone area redone as well as a new patio cover. Great experiences, Scott was a pleasure to work with. Will use him again on my next project. Thank you Scott

- Linda DiPalma. 2/30/2020

Scott and his team did an incredible job with installing a French drain and artificial turf for us. Throughout the process, he was responsive and provided honest recommendations. To top it all off, he made a pricing mistake in our estimate (to our great benefit) but stuck to his word. Honest, dependable, and beautiful work. Thank you!

- Michael Frazzini. 2/18/2020

I had very little ideas of how we wanted our backyard done and Scott came in and helped with ideas, layout, and the final product is absolutely perfect!

- MaKayla Emahiser. 1/12/2020

We have been YMS clients for several years. YMS is our "go to" organization for most landscaping and maintenance issues. The service is great and the price is right. We've been very pleased.

- Michael Seeb. 1/11/2020

Scott, David, and Pablo did an amazing job on our backyard! Could not be happier! They even helped us with our problematic sprinklers! I highly recommend YMS!

Scott and the crew did great job on our concrete and landscaping in Frank town. both quality and pricing were good. will use this company again for future projects :)

I can't say enough positive things about Scott and his crew. Scott is extremely personable, but even more knowledgeable. We had YMS finish our backyard (sod, sprinkler, rock, plants, trees, patio) and Scott was great about explaining why he recommends certain things, what grows and what doesn't, and helps walk you through the entire process. He is very accessible and a great communicator, which we've found can be difficult with other landscapers in the area. His crew was also great to deal with, friendly, and made sure that everything was cleaned up at the end of the project We were extremely pleased with the results in the backyard and would recommend YMS to anyone looking for help with a landscaping project.

- Jason Murphy. 9/27/2018

Scott and his team were great. He came by and gave us the honest truth about why some things wouldn't work in our yard while other contractors would say "Hey, if you pay me I'll do whatever you want." Scott gave us some great ideas and didn't lead us down a path we didn't want nor try to up sale us on anything. When it came time to start the project, his crew showed up when they said they would and were professional and efficient. They were able to complete the project in the time they initially stated. We are so satisfied with YMS that we will use them for all our future projects.

Seriously so very happy with this company. We received multiple quotes to re sod our yards. But felt the most confident in Scott and his team. It was not misplaced. They came out and did a great job removing the dead grass, building up the soil, grading it perfectly, and laying down sod. So very happy. We highly recommend.

- Jessica Forbes. 7/3/2017

Scott and YMS did a fantastic job on our huge project, and at a reasonable price. We had most of our lawn resodded and most of our rock removed, weed barrier replaced, then rock put back. Scott's crew worked very hard and had the job done quickly. I would highly recommend YMS for your next landscaping project.

Job was started & completed right on schedule. It turned out better than I imagined. YMS Landscaping used top notch materials and it looks great. The guys were easy to talk to & understood what I was wanting. They designed & made the fence just like the picture I gave them.

- Carol Galvin. 5/22/2017

Scott and team are great! I wasn't sure what to expect but it turned out even better than I could imagine. It makes the yard look awesome! Very easy to work with and reliable.

- Two Leaves and A Bloom. 5/7/2017

Scott and his crew are absolutely amazing! Scott listened to our ideas and helped us figure out what would work best in our yard. He installed a stamped concrete patio, full landscape, and fence for us...it came out better than we could have ever imagined!! He took the time to answer all of our questions along the way, and his crew is so clean and courteous! We highly recommend YMS! Thank you Scott for everything...you gave us the backyard we have been dreaming of for years! We hope to work more with you in the future!

- Danielle Wolpert. 4/10/2017

Great service, friendly staff. Reliable and dependable. Thanks Scott and crew!

- Marisa Cuenin. 4/2/2017

Great job on big landscaping project. I definitely recommend them!

Scott is great to work with. We have used him for a back patio, sprinklers, tree trimming and planting, and new sod.

Scott and his crew did a quality job on a very large project in our yard. It included a large area of flagstone, stone walls, columns, fire pit, a waterfall and replacement of sod and sprinkler system. They have also been responsive in coming back to fix any lingering issues. Their prices were reasonable, they worked hard, stayed on the project until it was done and nice people to work with.

- Dave Bullock. 2/13/2017

Scott and his crew did an excellent job creating a flagstone walkway and remodeling flagstone steps. He is honest, communicates well and follows thru with his commitments. I recommend him highly and would use him again.

- Jan Kennaugh. 1/23/2017

For nearly a decade Scott designed and executed all of the small landscaping projects around our home in The Meadows. All of them were done to perfection, on time and to budget. We hardly ever used anyone else. We've moved now and live outside the area and scope of Scott's expertise (we downsized) but we remain grateful for his work while we lived there. We plan to use him at our new townhome in Castle Rock.

- Jerry Persall. 0/11/2017

Having used Scott and his team at Your Home Maintenance two different times I can say with confidence his company is first rate. Our projects went exactly as planned with no surprises. My neighbor used them on our recommendation and they were very pleased too. I would highly recommend them.

Very thorough, very good and timely work, very competitive in pricing!

Scott and his crew have been working on my house and yard for 3 years. We cannot be more happy with the results. He customizes his projects to meet your financial abilities. It's not just the initial job and then he is gone. He follows up and keeps in contact via e-mail. When we have had any kind of issue he has been right on it and got it taken care of. He is personable and we have found him to be trustworthy. Scott is the owner, but he takes an active role in the projects by getting his hands dirty and making sure his sub-contractors are doing the job the way it is supposed to be done. I would recommend Scott's company for landscape, concrete and structural work. In fact, we have had so much done with his company he uses our backyard as a "referral" backyard and we have people coming by to see his work.

We have used Your Maintenance Source for several jobs and have always been very pleased. The work is top notch, and Scott (the owner) is honest and reliable. He's awesome at answering his phone, and if by chance you have to leave a message, he will get back to you ASAP. His crew is very professional and trustworthy. I would use them again in a heartbeat.

I had Your Maintenance Source do several different jobs and they have always done a great job. I would highly recommend them!I would recommend if your not sure if they do the type of job you looking for just call them and ask if they dont Scott will probably recommend someone who is qualified.

- Diane Bickel. 0/21/2015